Inspiration
Five years had passed since the demise of the Pigsty Hill Light Railway. I had done very nicely in five years of self-employment and was looking to wind down. Furthermore, in the intervening years I had connected my two ponds by a third, whose lower wall was perfect for a railway extension which would provide the much-needed sidings. My thoughts were gradually returning railway-ward when I looked in a local toy-shop window and saw the latest wonder of the age, the Playmobil RC-train. This is a 45mm gauge system, very toy-like and with plastic track, but at its heart is a very neat 0-4-0 chassis using rechargeable batteries and 27MHz radio control. As far as I know, this is not available separately, but at 129.95 the lot, who cares?
I leapt in and bought the set and enough extra plastic track to resurrect the P.H.L.R. The track-bed was still there, although some compromises had to be made because of the tighter Playmobil (same as LGB R1) curves. The result was perfection. The radio control system worked like a dream. Even the toy-like track, locomotive and stock were enough to inspire the rebirth of the railway and when resprayed in less garish colours the last looked almost acceptable. After purchasing a little extra track I could ensure that the layout was operable and would not bore me rigid like its predecessor.
Although the locomotive gave the appearance of "Disney meets the Deutsche Reichsbahn" it simply un-clicked until the chassis was revealed in all its simple elegance. This is where the adventure really started.
Anglification
The next task was to look for a prototype. I was determined to have British prototype locomotives and stock, but the garden had changed since the days of the Pigsty Hill Light Railway. The theme now was bamboos and ferns, giving a more tropical feel to things (if you can imagine tropical scenes that get no sun for three months of the year). As always when seeking inspiration, I went back to "The Narrow Gauge", the magazine of the Narrow Gauge Railway Society. It was, oddly enough, a reproduction of an advertisement for Fowler's sugar cane wagons that put me on the right track.
I already had a Fowler diesel locomotive body which would marry nicely with the Playmobil chassis, and my coaches and vans, suitably regauged, would look right in this context. LGB do a very nice line in Feldbahn (light railway) cane wagons, which would do until I could build my own to Fowler's pattern.
While surfing the Internet, I came across the remarkable fact that the Trangkil sugar mill in Java not only operates steam locomotives, like many of its neighbours, but that the star of the show is a small Hunslet 0-4-0 saddle tank built to a Kerr Stuart design of 50 years earlier, and arguably England's last-built working steam locomotive.
This seemed enough justification for a sugar-cane line using British prototype locomotives and stock. Later research discovered the North Borneo Railway, still in operation in Malaysia as the Sabah State Railway, and this became my inspiration. As I hope the photo shows (and the videos definitely show), the jungle atmosphere is already there in the garden.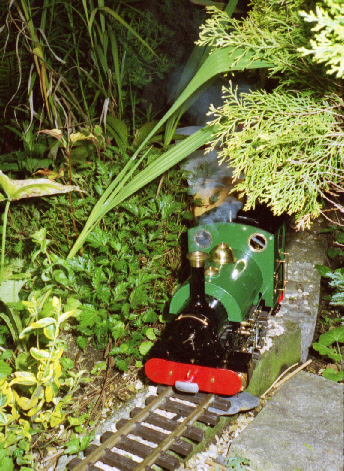 Realisation
Then, via an Internet link from a US G-scale society, I came across Garden Railway Specialists of Princes Risborough. It appeared that I wasn't the only one who recognised the potential of the 45mm gauge (and of German engineering), but wanted to run a British prototype. In particular, they do a good range of British outline locomotives either with the Lehmann 0-4-0 chassis or as body-only for use with whatever chassis the customer might choose. They also do a similar range of conversions and originals for coaches and wagons.
On talking to Michael Adamson of Garden Railway Specialists, I discovered that he had also seen the potential of the Playmobil RC chassis, and that this would be an alternative to the Lehmann 2-rail pickup for their locomotive conversions. At a stroke this provides British-prototype G-scale locomotives with reliable radio-control, which for me is a far more satisfactory outdoor solution than rail pickup.
Personally, I'm not too happy with large scale electric locomotives with a steam outline, although Garden Railway Specialists' fireless locomotive body would be an intriguing compromise. I suspect it relates to childhood visits to miniature "steam" railways which turned out to be nothing of the kind Also, as I suggested in my previous article, I have an increasing interest in NG and industrial diesels, which have the character and individuality so lacking in their mainline brethren. For me, the coming of the "Warships" to Bristol simply meant the demise of steam.
Implementation
As an incorrigible cheapskate, it occurred to me that, given a small line that could happily be worked by a single locomotive, I needed only one chassis. I could combine it with whatever drop-on bodies took my fancy, as long as the wheels were reasonably compatible or decently hidden. If all else fails, "tramway" skirts cover a multitude of sins.
Which is where I find myself now. I have one British-outline diesel, Fowler Resilient 'Lizzie' with more on the stocks, coaches based on the Pentewan Harbour Light Railway regauged from 32mm, an Irish narrow gauge coach rebuilt using a Playmobil chassis, and LGB Feldbahn wagons. For compatibility, I've fitted Brandbright loop couplings, which fit nicely with LGB/Playmobil, and I've edited these latter to be single-ended. I still have my signals from a long-gone 16mm model company, and some rather nice station buildings in terracotta whose origins are lost in the mists of iniquity (and handed down from time immoral).
I have laid down LGB track, which looks superb. To my eye it conveys an impression of solidity which more than makes up for the brass rail. The Playmobil track which it replaced now graces my workroom as a test-track. The layout was designed using WinRail 4.0, marketed in the UK by Span Software Consultants Ltd., which not only has a library of pretty well every maker's track, but also produces a shopping list and (gulp!) a full costing for the track.
Illumination
There are few advantages to starting a garden railway in the deep midwinter, but one of them arises from the long hours of darkness. If a railway is to run outside working hours, it has to be properly lit. Since I'm not using the track for traction power, it is the ideal means of distributing power for station and signal lights and for carriage lighting. I surprised myself by remembering how to build current pickups for the carriage wheels, and am lighting all my coaching stock as I convert the gauge. Whenever I've built railways in the summer this has always been left for 'later on' which in practice usually means never. One the unfortunate aspects of preserved railways is that they rarely operate at night, in my view a particularly magical spectacle, but this needn't be an obstacle to the garden railwayman.
Incidentally, the station buildings are from the 'Much Nattering' set (see bottom of page). Just to show how one can get it wrong, I was just working out how to fit the booking office chimney when it occurred to me that coal fires are rare in the tropics!
Evaporation
I have decided to once again go for radio-controlled live steam. Everyone tells me that radio control has improved beyond all recognition; even so, I'm a little more wary this time round. I have ordered a Roundhouse 'Katie' 0-4-0 saddle tank from Garden Railway Specialists for a frightening sum of money. I am looking for full control so that I can shunt the sidings from a single point, ideally while sitting down, and hope to be able to report back on this later.
Which I can do now; 'Hedgehog', as I've named her, is at least as controllable as my battery R/C mechanism, and is a delight to see and to run.
A clip-on attachment to the gas valve solves the only minor problem, that the normal gas-burn rate was way over the top for a light load on a short line. It gives finer adjustment, and setting it so the ideal gas flow is at the horizontal position makes it easy to adjust after initial steam-raising.
Modification
As noted above, I'm gradually converting my stock to 45mm gauge, and adding illumination. In fact the passenger brake van has been converted into a push-pull driving unit with headlamp, and the first of three coaches has been fitted with seats and lighting. The Fowler diesel headlight (powered by the Playmobil unit) has been moved to a more prototypical position. The loco and these two vehicles now form the shuttle service from Pigsty Hill to the main line at Beaufort.
All I've done on 'Hedgehog' is to change the couplings and add a cowcatcher and headlamp. It would take a braver man than me to make more than cosmetic changes to a grand's worth of engineering excellence from Roundhouse!
Justification
The line is loosely based on British colonial practice, with the North Borneo Railway as a very vague inspiration. The PHLR was initially laid to two foot gauge and connected the cane fields to the harbour at Beaufort. When the main line reached Beaufort the line was regauged to metre gauge and a passenger service provided between Pigsty Hill and Beaufort to connect with the main line service to Jesselton (now Kota Kinabalu).
Operation
A timetable is under preparation allowing for a passenger service between Pigsty Hill and Beaufort and sugar cane trains between Pigsty Hill and the cane fields.
The points on the main circuit are LGB Radius 3 (4 foot) and those at Pigsty Hill and the cane sidings are R1 (2 foot). The point mechanisms have been swapped over so that the manual (spring loaded) controls on the main line allow the road to remain set in the directions of Pigsty Hill and the cane fields. This allows hands-off operation of both the passenger push-pull service and the cane trains. Also, the electric controls (which are not remotely operated) at Pigsty Hill and the cane fields ensure that the road remains set to that from which the last train departed, ready for its return.
Big (and I mean BIG) videos of the PHLR Mark II:
PHLR II video part 1 PHLR II video part 2
For images from this period see:
The PHLR Mark III - Pictures from 1999 through The PHLR Mark III - Pictures from 2003